Become the provider
Do you work with young people with mild intellectual disability and want to improve their psychosocial skills protecting them against using psychoactive substances? Find out how you can become the provider of My life My choice.
Provider skills
Even the best prevention programme will not replace good relationship of the teenager with the adult. Relations with other important adults (e.g. teachers) might also prove to be protective. By improving his or her psychological and social skills the teacher might actively support and inspire young people to develop.
Building students' positive self-esteem, confidence in their abilities, helping them to take up new challenges as well as developing their skills of handling emotions and difficulties are just a few examples of the teacher's positive influence on students. Although the outcome is noticeable straight away, good experience in relations with the teacher can get deeply rooted in the memory of young people and become fruitful in the subsequent stages of their lives. My life My choice has been specially designed to support this key aspect of preventive work.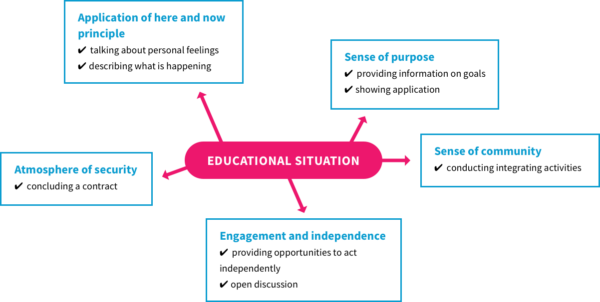 Teacher skills allow for open and two-directional interaction with students, which is supportive of building positive relationship in class and helps to develop youth life skills.
Active listening, skilful question asking, sending clear messages as well as constructive feedback are crucial skills the teacher prevention specialist should possess. Thanks to the participation in the training and by becoming familiar with the My life My choice provider's manual you will develop such competencies.
Training procedures
The programme providers can include teachers, psychologists or school counsellors who work with adolescents with mild intellectual disability in grades 7 and 8 of primary school.
In order to become a provider of the My life My choice programme it is necessary to participate in an 8-hour training course, which is run according to the plan developed by the specialists of the Beyond the box Foundation. Apart from detailed familiarization with the programme and work methods, the course serves as introduction to the modern prevention of risky behaviour in children and adolescents.